We're Getting Mutants in the MCU - The Loop
Play Sound
The Secret Circle
Season 1, Episode 20

Episode Information

Air Date

April 26, 2012

Writer

Roger Grant & Katie Wech

Director

Eagle Egilsson

Episode Slogan

THE CIRCLE DOES MAGIC TO FIND THE REMAINING CRYSTALs

Episode Guide

previous
Crystal
next
Prom
Traitor is the twentieth episode in the first season of The Secret Circle. It aired on April 26th 2012.
Summary
When a crystal is magically stolen from the abandoned house, the Circle decides it was the traitor witch working with Eben. Jake calls for a meeting with Isaac to see if they can get him to change sides, but Cassie's loose grasp on her dark magic threatens to destroy any possible alliance when their pursuit of the traitor leads them to the "Creepiest Place on Earth". Meanwhile, Faye and Jake work together to steal Dawn's crystal, Melissa and Adam pair up and uncover a new magic trick, and a frustrated Diana reaches out to Charles for help.
Plot
SPOILERS AHEAD
Cassie has come home from Jane's wake, but in a moment of weakness, she couldn't help kissing Adam who is over — judging by the look on his face — didn't seem to mind all that much. Before they're interrupted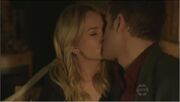 by John who Cassie confronts for his affair with Diana's mother and he tells her it was a one night stand, but he loved Amelia. Diana meanwhile, was coming to terms with the discovery of her true paternity. She was clearly finding it hard to be around Cassie at Jane's wake, and insisted on not telling the rest of the Circle until they knew for sure whether or not she was John Blackwell's daughter. Being Diana, she came right out and asked Charles, who admitted he and Diana's mother had been separated before she got pregnant. Charles assured Diana he was her father no matter what, and told her to stay away from John.

Faye and Jake tried easing the "pain" of Cassie's loss with Dawn's prescription pills, but all they found in the bottle was Faye's family's crystal. No, wait, that's a good thing! Ah, if only things were that simple in real life.

At the abandoned house, John and the others were looking for the remaining crystals, at which point Faye and Jake showed up with the crystal they had found. When Jake informed them it was dead, John told them it could be recharged with the power of the Circle. In the meantime, he sent Chance Harbor's newest dynamic duo, Adam and Melissa to locate Adam's family's crystal.

Adam and Melissa headed to the Boathouse, where they bonded over a bottle of booze. Adam let on that he still loves Cassie. Anyways, by a stroke of luck, Adam remembered the cloaking spell his grandfather used to cast when he was little and uncovered the hiding place of the final crystal.

Back at the abandoned house, Faye's crystal was stolen using magic, presumably by the traitor helping the witch hunters. The Circle decided to go after it themselves, without John's help. Aside from Cassie, no one including Diana really trusted him. Jake thought to reach out to Isaac, who he believed would have turned on Eben. When the Circle went to rendezvous with Isaac in the woods, Ian another witch hunter told them Isaac had been killed by Eben. He also informed them the traitor had run away and is hiding from Eben.

Elsewhere, John paid Dawn a visit and asked her to keep a close eye on Charles, who was planning on leaving town with Diana. For her cooperation, John promised Dawn her powers back. He also revealed his plan to get rid of the elders. It's clear John is manipulating the Circle to get what he wants, but we're still not sure what his endgame is.

Finally, the search for Faye's crystal led the Circle to Hudson Fields, an abandoned amusement park, which might be the creepiest place on earth. There, they discovered the bodies of several witch hunters. Cassie and Diana spotted the traitor running away, so they gave chase. When they finally caught up with him, they were shocked to see who it was - Nick!
Cast
Main Cast

Recurring Cast

Uncredited
Quotes
---
---
---
---
---
---
---
---
---
---
---
---
Soundtrack
| Song Title | Album | Artist | Buy |
| --- | --- | --- | --- |
| Battle In Me | | Garbage | |
| Go Right Ahead | Go Right Ahead - Single | The Hives | Buy |
Gallery
| | |
| --- | --- |
| | This gallery only shows the official pictures released for the episode your're looking for. A more complete gallery can be found here. Any future additions should be done there. |
Videos
Notes and Trivia
Originally, the title was thought to be Trader.
"Creepiest Place on Earth" refers to an old carnival ground based on a tweet by Phoebe Tonkin.
Faye comment on Diana brushing up on her Aussie Accent is ironic since Phoebe Tonkin is Australian herself.
Louis Hunter returned as Nick Armstrong. He was uncredited in this episode as his appearance was kept a secret until the very end of the episode.
Live tweeting, Andrew Miller announced that it was Diana's mother, Elizabeth, who came from one of the families from Salem.
The opening scene where Cassie has discovered her grandmother's death is similar to the 'cold opening' scene of the Buffy The Vampite Slayer's fifth season episode "The Body" where Buffy is shown in a grim opening montage upon just discovering her mother's corpse
See Also