Slither is the fifth episode of the first season of the CW television program The Secret Circle.
Summary
Cassie wrestles with the secrets she must keep from her grandmother. Nick is thrown for a loop when Melissa adopts a new attitude and enlists his help to track down her family's Book of Shadows. Meanwhile, Diana is craving some alone time with Adam and arranges a date night so they can rekindle the spark in their relationship, but all six of them are brought together to fight off a dark force that threatens to destroy the Circle from within. Completely unaware of the new danger encroaching on their children, Dawn joins Charles aboard his boat to further their plans for the Circle.
Synopsis
SPOILERS AHEAD
Melissa struggles with a mysterious headache as the demon possessing her attempts to take control of her body. Once Melissa is no longer Melissa, she asks Nick's help to find her family's Book of Shadows. Instead, she has him dig up something long ago buried. It turns out to be an old suitcase.
Diana tells Cassie not to inform her grandmother about her magical abilities.The elders might not take kindly to the newest generation becoming witches in secret. Meanwhile, Dawn and Charles are trying to create more crystals, but this results in the destruction of the one crystal they still had.
After Diana and Adam have a steamy make-out session involving whipped cream, the pair and Cassie head to their hangout, where they find Melissa still in the throes of demonic possession. Cassie realizes that they can't get rid of the demon alone, so she decides to tell her grandmother everything, in the hopes that the elder will be able to help.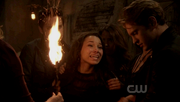 Melissa takes Nick hostage and threatens to kill him if Faye, Diana, and Adam don't cast a spell which will revive the things in the old suitcase. Cassie's grandmother arrives, and she manages to drive the demon back with her crystal. The snake demons in the suitcase are killed, but the one possessing Melissa escapes into Nick.

Possessed Nick calls Adam and tells him that he's going to destroy the Boathouse Grill unless the circle gets there. Nick also speaks with Dawn, and he claims to be a demon called Abaddon, the very demon she summoned. Dawn doesn't wish to acknowledge her connection with the demon, but Nick is insistent, saying that he and Dawn have the same goal: steal the Secret Circle's power. Dawn calls Charles and doesn't hang up, so Charles can hear what Nick is doing.

Charles arrives and punches Nick in the face before the circle arrives. Dawn says that they need to drown Nick in order to destroy the demon. Charles is very reluctant to do so, but he goes along with the plan anyway. Dawn justifies the murder by saying they're protecting the teens.

The circle comes across Nick's body later and surmise that he drowned himself. Meanwhile, Cassie tries to get more information about the fire, but her grandmother doesn't have all the answers. She reminds her that magic is dangerous and that's why she tried to keep Cassie's witch heritage a secret. She now knows that this was a mistake. Cassie misses Nick terribly
Cast
Quotes
---
---
---
---
---
---
---
Soundtrack
| Song Title | Album | Artist | Buy |
| --- | --- | --- | --- |
| What The Water Gave Me | | Florence And The Machine | Buy |
| Why Do I Worry | Farewell Good Night's Sleep | Lay Low | Buy |
| You And I | Within and Without | Washed Out | Buy |
Gallery
| | |
| --- | --- |
| | This gallery only shows the official pictures released for the episode your're looking for. A more complete gallery can be found here. Any future additions should be done there. |
Videos
Notes and Trivia
Nick Armstrong is killed in this episode. It is the earliest death of a main character in any Sci-Fi or supernatural television series.
It is hinted that Melissa is a Glaser from her mother's side of the family.
In this episode, it appears as though Charles truly does have some feelings for Dawn.
In an interview after Slither aired, Louis Hunter revealed that shortly before filming his death scene, he told a reluctant Gale Harold not to hold it back.
Melissa is the only known survivor of demon possession. Both Heather and Nick died after they were possessed.
See Also