Jurassic World: Dominion Dominates Fandom Wikis - The Loop
Play Sound
The Secret Circle
Season 1, Episode 15

Episode Information

Air Date

February 16, 2012

Writer
Director
Episode Slogan

CASSIE'S PAST COMES BACK TO HAUNT HER

Episode Guide

previous
Valentine
next
Lucky
Return is the fifteenth episode in Season One of The Secret Circle. It aired on Feburary 16, 2012.
Summary
Cassie is stunned when a notoriously evil figure from her past shows up on her doorstep. However, her surprise quickly turns to suspicion when he asks her to return the medallion she found in the wreckage of the fire that killed their parents . Cassie storms off but is captured by Eben and his band of witch hunters. Jake offers to trade himself for Cassie's freedom and when Adam realizes they're in trouble he calls the Circle.
Plot
SPOILERS AHEAD
The episode opens with Cassie packing her bags at Diana's house. Despite Charles and Diana's pleas for her to stay, she claims her grandmother will be returning that night from the mental clinic. It is later revealed that this is not true, although her grandmother does seem to be improving enough for Cassie to speak to her on the phone. It is possible Cassie's main motivation for moving out of Diana's might be her improving relationship with Adam.

When Cassie returns to her house, she finds it suspiciously unlocked. Inside she finds Jake who claims he saw something suspicious from his house and came over. The two find ash circling the house, a sign that the Witch Hunters are in town and seek to prevent Cassie from using her powers. Cassie uses an umbrella to convince Jake to leave the house, claiming she doesn't need protection.

Cassie starts her new job at the coffee house and is obviously out of her element. Adam gives her waitressing advice and vows to come over later after hearing about the ash at her house. Cassie once again claims that she does not need protection. In the coffee house, Faye enjoys Cassie having to serve her while Melissa recieves an invitation to go to a party at Callum's house. Faye claims Lee and Callum are below them because they do not have as much power.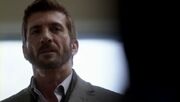 Back at her house, Cassie hears a noise and assumes it is Jake again. Instead, John Blackwell is at the door. Cassie is torn between wanting answers and his protection and resentment for the years he has missed. Blackwell claims no one can know he is there and leaves when Adam drives up. Cassie agrees to meet up with him later. As soon as Adam enters, Cassie tells him about Blackwell. Adam worries about Cassie meeting up with Blackwell because of the stories they have heard and vows to go with her. She says he will not hurt her because she is his daughter.

Diana calls Faye looking for Melissa, who has gone alone to Callum's party. The two worry she will start using Devil's Spirit and go to Lee's to get the address. Lee goes with them claiming it would be too dangerous for them alone because Callum uses people and practices dark voodoo.

Cassie meet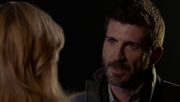 s up with her father. He asks for the medallion to protect her from the spirits which will come after her. He seems distressed that she has told someone he is in town. When she gets in the car after the meeting, she is kidnapped by Eben.





Callum's party is obviously not what Melissa expected. She turns down his offer of Devil's Spirt, so they do an energy sharing ritual using totems similar to the one Lee gave Faye. When they reverse the ritual, Callum realizes that Melissa's power is stronger than anticipated and takes her to a separate room.

Blackwell examines the Abandoned House and runs into Jake who is looking for Cassie. Blackwell reveals his identity to Jake, who tells him about the salt ash and that Cassie might be with Adam Conant. Jake goes to the witch hunters to barter a deal, Cassie for Blackwell. Instead of Issac, he finds Eben. After Jake leaves to get Blackwell, Eben uses a substance in Cassie's eyes and mouth to subdue and control her.

Blackwell goes to the Boathouse Grill to look for Cassie and speaks tensely to Ethan. Adam sees Blackwell leaving the Grill with Jake and calls Diana for backup.

In the back room with Callum, Melissa gets suspicious, and Callum accuses her of being a witch. Although she attempts to deny it, she uses the threat of her power to leave the room. She meets up with Faye and tells her about the totem ritual. Diana tells them about Adam's phone call, and the three leave without Lee.

Jake and Blackwell meet up with the Witch Hunters in a clearing. Instead of Blackwell for Cassie, Eben trades Cassie for Jake, claiming they have unfinished business. Cassie, under the effect of the substance given to her by Eben, circles her father and holds him there with magic. Blackwell claims he cannot fight back because he no longer has magic.

Eben is about to kill Jake, when the circle arrives and magically throws Eben into a tree, impaling him on a tree branch. Unexplainably, Eben manages to escape despite being injured.
The circle, after getting Cassie to chant with them, reverse the effect of Eben's enchantment and stop her attack on Blackwell. Blackwell later claims that he lost his powers when the Elder's took the parents circle's powers. He claims to have changed but that no one would believe it. When Cassie reveals that she has destroyed the medallion, Blackwell says he will stay in Chance Harbor to protect her.
Lee sneaks into Fayes room. He snaps the totem to win her trust. The two kiss passionately. Eva, his previous girlfriend is shown waking up from her coma at the same moment. Blackwell talks to Jake and thanks him for making the deal to protect Cassie. He proposes that they work together to protect her in the future. Cassie meets Adam at the Boathouse Grill for comfort.
Cast
Main Cast

Recurring Cast

Guest Cast
Soundtrack
| Song Title | Album | Artist | Buy |
| --- | --- | --- | --- |
| Ain't Tryin' To Deny | On the Hunt | Amplified Heat | Buy |
| As Long As You Like | Under the Streets | Afrobeta | Buy |
| City Girl | Prisoner | The Jezabels | Buy |
| Fallin | Priscilla | JMSN | Buy |
| Lost | On the Hunt | Amplified Heat | Buy |
| Maniac | Hysterical | Clap Your Hands Say Yeah | Buy |
| Youth | Program 91 | Razika | Buy |
Quotes
---
---
---
---
---
---
---
Gallery
| | |
| --- | --- |
| | This gallery only shows the official pictures released for the episode your're looking for. A more complete gallery can be found here. Any future additions should be done there. |
Videos
Trivia
The episode is named Return because of John Blackwell sudden return to Chance Harbor.
This is the episode where John Blackwell's face is revealed, because in the twelfth episode, Witness, his face is covered during Cassie's journey to Jake's memories of the Boatyard Fire.
This episode marks the first appearance of John Blackwell in the series.
Cassie channeling her magic throught a umbrella is reference to Hagrid when he first meets Harry in "Harry Potter And The Sorcerer's Stone".
In voodoo, there is a right and left path. Left being considered a path of evil.
Cassie gets a job as a barista and moves back home.
Did you know that in the books Cassie's dad comes alive by a crystal skull breaking, but it didn't break since it's in his head? Faye was the one who made him come back alive because she was incharge when they did the cermony.
See Also