We're Getting Mutants in the MCU - The Loop
Play Sound
The Secret Circle
Season 1, Episode 13

Episode Information

Air Date

February 2, 2012

Writer
Director
Episode Slogan

CASSIE NEEDS THE CIRCLE'S HELP AFTER A TERRIFYING DISCOVERY ABOUT THE WITCH HUNTERS

Episode Guide

previous
Witness
next
Valentine
Medallion is the thirteenth episode in the first season of The Secret Circle. It aired on February 2, 2012 and attracted 1.75 million watchers.
Summary
Cassie enlists the Circle's help when she receives a frightening warning about the witch hunters' return. At the same time, her true feelings for Adam and Jake surface during a birthday party that Ethan decides to throw with the help of Diana. Meanwhile, Faye and Melissa take their inner power to a chilling new level when they try a little of Lee's "Devil's Spirit."
Plot
SPOILERS AHEAD
It appears that Cassie's grandmother is still out of town. She's collecting a few things from her home when Adam shows up to warn her to take it slow – with both Jake and her dark magic. They are in conflict. When Adam leaves, Cassie hides the medallion with her Book of Shadows. Lucy Gibbons – the gal who recognized Cassie in Jake's memory – shows up. Apparently she is a psychic and that each moment in time leaves a psychic imprint.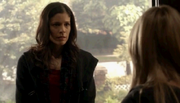 When Cassie shared Jake's memory via tethering, the imprint changed. Lucy tells her that the witch hunters are coming for her. Lucy wants to help – she owes it to Cassie's parents.
The middle generation plotline revolved around the crystal. Ethan's got it and Charles and Dawn both want it back. The one thing I found interesting in this episode was that Dawn has many "marking" scars on the palm of her hand. And apparently, when someone who has been marked shows up after being "banished", the marking cut opens up. This is what happens when Lucy arrives in Chance Harbor.
Ignoring Adam's warning, Cassie meets up with Jake at the old house. Once again, she has the medallion. Jake suggests that since the symbol on the medallion matches the one in the ceiling downstairs, perhaps they go there. Cassie tries to align the medallion with the symbol, and when she does, she becomes stuck in place while the energy around them shakes the entire house. Cassie tells Jake to run – but when she lets on that she can't move, Jake runs back and tackles her, just as Adam arrives! This appears to break up the energy and the energy flux abates. Everything is still again. Adam says "What the hell is going on?!"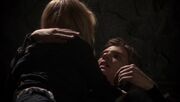 Adam is angry with the appearance of things between Jake and Cassie, and he runs outside. Cassie follows and tells them that the witch hunters are coming and she believes since the medallion protected her father, it can protect the Circle as well. Adam thinks the power of the Circle is all they need Cassie returns to the house and tells Jake she plans to meet up with Lucy. Jake goes with her. Lucy appears to know that Jake is a witch. When Cassie tells her she has found the medallion, Lucy seems to be very happy and to know quite a lot about it. Cassie wants to know if the medallion can protect the Circle, and Lucy tells her it can, but its "locked". It can be activated if the Circle performs a ritual. They all agree to meet in the woods later. When the kids leave, there is a knock at Lucy's door. Thinking it's Cassie, Lucy opens the door – and finds Dawn standing there. Dawn reveals that Lucy was Blackwell's psychic, and she betrayed him on the night of the fire. Dawn wants Lucy to help her get the crystals! I don't trust either of these gals – they both have hidden agendas! Back at her house, Cassie looks for the medallion in its hiding place, but it's not there. And there's only one person who knows about that hiding place – Adam. She goes off to confront him … at his birthday party!
And things at this party are just odd. First of all, the place is packed – and Adam doesn't strike me as a guy with an abundance of friends. Who are all these people? Second, Ethan's speech is extremely underwhelming for a dad! Third, although I appreciate Diana's speech for what it tells us about her perspective and Adam's character, it seemed completely out of place given the status of their relationship. Finally, Faye and Melissa are outside – and Melissa is high on the Devil's Spirit which Faye has shared with her! Cassie confronts Adam (Happy Birthday?) and he admits taking the medallion. He wants to protect her, and he continues to sow seeds of doubt about Jake. There are confrontations galore at the party. The one between Charles and Ethan plays out with Charles slipping Ethan a "mickey". (Later, when Ethan has passed out, Charles retrieves the crystal!) Also, Faye has called Callum for more drugs and when he arrives at the party, he gets into a stare-down with Jake – which is hilarious because Jake is the tallest guy in the room! And finally, back at the Chamberlain residence, Lucy shows up and stabs Dawn! No surprise – Lucy is NOT who she appears to be.
After the party, Cassie tells the Circle about the medallion ritual. Faye is jealous and thus reluctant, but Diana is all for it, and Melissa – stoned – is up for anything! Jake's already in. Adam holds back but eventually agrees, continuing to be cautious. But they all show up in the woods, and they start the ritual. One by one, the Circle members starts to feel weak. Cassie becomes suspicious and turns to Lucy, who explains that the medallion can channel magic – in or out! It has "stolen" magic from thousands of witches over the years and that's why it is such a powerful talisman. Right now, it's taking the Circle's power. Cassie – apparently again the least affected by this spell and suddenly remembering the chant her father used the night of the fire – turns on Lucy in spectacular fashion having the fire chase her! Cassie gets Lucy to admit that her father is still alive, and then banishes her from Chance Harbor forever. No worries, though.
Back at the motel, one of the witch hunters shows up and slits Lucy's throat. In the woods, Cassie and Jake have a confrontation. She asks him point blank if he's ever killed a witch. His silence is her answer. Melissa meets up with Callum for more drugs. Faye meets up with Jake – Jake was feeling down so they end up got laid. Charles saves Dawn with the crystal! Cassie encounters her father's presence in the basement of his old house!
Cast
Main Cast

Recurring Cast

Guest Cast
Quotes
Ethan: "I'm better at incoherent rambling than speeches, so I'll keep it short."
---
Adam: "You're turning to dark magic without knowing the cost." (to Cassie)
---
---
Charles: "I am gonna get the crystal back and next time you cross me is gonna be your last." (to Dawn)
---
Faye: "I'm impressed! Diana was able to find enough random classmates to make it look like Adam has friends. Other than us five."
---
Jake: "Thanks, Doc. Why don't you go deal with your sense of powerlessness and burn down another school?" (to Faye)
---
Melissa: "Faye, I just told you Cassie dug up her father's grave."
Faye: "Of course she did, because she's a creepy little Stepford ghoul with dark magic and daddy issues."
---
Charles: "When you threatened to kill my mother it occurred to me that you and I aren't exactly on the same page." (to Dawn)
---
Melissa: "I think she's brave and strong."
Faye: "Oh, I forgot you guys are a super duo now. Delissa, is it?"
Soundtrack
| Song Title | Album | Artist | Buy |
| --- | --- | --- | --- |
| A.I.M Fire | The Experiment | Art vs. Science | Buy |
| Devil's Rug | | Bands of Skull | |
| Gold Sneakers | No Future | Wax Idols | Buy |
| War in Heaven | Raven in the Grave | The Raveonettes | Buy |
Gallery
| | |
| --- | --- |
| | This gallery only shows the official pictures released for the episode your're looking for. A more complete gallery can be found here. Any future additions should be done there. |
Videos
Notes and Trivia
The episode is titled Medallion because of the necklace Cassie wears during this episode. It's the same medallion her father wore on the night of the Boatyard Fire sixteen years ago.
Lucy makes her present day appearance in this episode. She was first seen as a teenager in Witness as the girl who confronted Cassie in Jake's memory.
This episode takes place on January 28, 2012, since they are celebrating Adam's seventeenth birthday. This date was revealed in Crystal.
It is established that psychics and witches are not of the same supernatural specie.
See Also