Heather is the fourth episode in the first season of The Secret Circle. It aired on October 6, 2011.
Summary
Cassie looks up an old friend of her mother's named Heather Barnes and discovers she has been in a catatonic state since the night of the fire sixteen years ago. Feeling guilty that her mother and her Circle may have had something to do with Heather's current state, Cassie tells Diana that she wants to use magic to help Heather. Diana refuses to help, but Faye is more than happy to conjure up a spell – for a price.
Plot
SPOILERS AHEAD
Cassie discovers that one of her mother's old friends, Heather Barnes, still lives in Chance Harbor, and so she tries to find her in order to get more information on the fire. Heather's brother Wade Barnes leads Cassie and Adam to where Heather sits, motionless for 16 years. Cassie sees that Heather might be under the influence of a binding spell, and she wants to lift the spell to speak with Heather. Diana says that it might be too dangerous. Faye says that she'll help Cassie, but only if Cassie allows her to read her mother's grimoire. Cassie is reluctant, but she agrees.
Nothing seems to happen at first, and Cassie is disappointed. Diana finds out from her mother's grimoire that the spell on Heather was meant to keep evil at bay. Meanwhile, Heather snaps out of the binding spell and wanders over to Cassie's house. Heather is looking for Cassie's mother, saying that "she wanted to protect you". Heather housed a demon, and now Cassie and Faye's spell has set it free.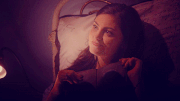 As Nick and Melissa experiment with magic while in bed together, they find Heather attacking Faye and rush to help. As the Circle struggles with the demon, Wade shows up, which distracts the demon in Heather enough to rush into the street, and into the path of a truck. Heather is killed, but the demon survives and secretly hides in Nick's jacket. The demon has chosen Melissa as its new host.
Cast
Qutoes
---
---
---
---
---
---
---
---
---
Soundtrack
| Song Title | Album | Artist | Buy |
| --- | --- | --- | --- |
| All Of This | Passive Me Aggressive You | Naked And Famous | Buy |
| Coming Down | Only In Dreams | Dum Dum Girls | Buy |
| Fire In The Night | | Feathers | |
| I Move It Slow | | Taxi Doll | |
| No Sacrifice | Black and Blue - EP | Uh Huh Her | Buy |
| Stare Into The Sun | Colours | Graffiti6 | Buy |
Gallery
| | |
| --- | --- |
| | This gallery only shows the official pictures released for the episode your're looking for. A more complete gallery can be found here. Any future additions should be done there. |
Videos
Notes and Trivia
This episode has Kevin Williamson's trademark of naming and centering an eponymous episode around a mysterious female character who ties into the bigger picture of prior events of the series.
Heather Barnes is the first character to be named in an episode title in her first appearance and also die in the same episode.
This is the first appearance of demons in the series.
This episode features Cassie and Faye's longest onscreen time together during an episode.
Nick and Melissa finally become a real couple in this episode as Nick begins to show his feelings for her.
Although credited, Gale Harold, Natasha Henstridge and Ashley Crow do not appear in this episode. This is the first episode not to feature any parents or Elders.
See Also