The Secret Circle
Season 1, Episode 22

Episode Information

Air Date

May 10, 2012

Writer

Andrew Miller and Andrea Newman

Director

Dave Barrett

Episode Slogan

"Cassie and Diana unleash their dark magic. Charles and Dawn get a shot at restoring their powers and Faye fights for her life in this jaw-dropping season finale.""

Episode Guide

previous
Prom
next
Awakening
'Family' is the twenty-second episode of the first season of The Secret Circle, making it the first season finale, and is also the series finale due its cancellation by the CW. It aired on May 10, 2012.
Summary
After Faye is attacked by the Witch Hunters, Jake, Melissa and Adam set out to save her. Blackwell tells Cassie and Diana that the only way to stop the Witch Hunters is to use their Balcoin blood to unleash the Crystal Skull. Diana is reluctant, but Cassie convinces her that it's the only way to help their friend. However, she'll need to tap into her dark magic to do it. Also, a mysterious magical power or so is what gives the circle its solo magic back. Meanwhile, Dawn and Charles are faced with a new way to get their power back, but at a very big cost.
Plot
SPOILERS AHEAD
Diana woke up in Grant's car and really wanted to think that she had slept for two straight days and are half-way out of the country, but Grant said she just slept for 2 hours and her phone had been ringing while she slept. She realized that the call was about Faye and Eben so she said goodbye to Grant.
Meanwhile, at the Boatyard, Faye was struggling to get out while a witch hunter tried to tie her to a pole. He then took her phone and gave it to Eben. Eben called Cassie and told her that he wanted a trade: Faye in exchange for a crystal and he would not kill her. The circle argued over if they should trust Blackwell to create the crystal skull so they can save Faye. Diana doesn't trust Blackwell, but Jake convinced her to help build the crystal skull, so then if anything happened to Cassie she would be the back up to get the Skull in order to save Faye.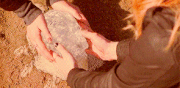 As the circle split into groups; Diana, Cassie and John Blackwell set out to put the skull together. Jake, Melissa and Adam tried to save Faye. Diana, Cassie and John later began the process of making the skull, but after they finish Cassie told John that she wanted to use the skull to kill the witch hunters. He didn't allow her. This questioned both Diana and Cassie, so they realized that John had other plans, but before they know it John used his dark magic to knock them down. Meanwhile, the others get their magic back. Faye escaped, called her mom and knocked down the witch hunter that was guarding and reunited with Jake and Melissa. Jake and Faye shared a passionate kiss. They were caught by Eben, who used the demons' magic to knock them all down. When all of them woke up they realized they were tied to a pole with fire surrounding them and Eben watching until they rot to death like their parents did 16 years ago.
While at the Meade's House, Charles thinks Blackwell set him up when everything that he did to kill Amelia happened to him. They later received a call from Faye saying that she knows she is a witch and she is at the Boatyard with the witch hunters. Dawn and Charles later received power from Kate in order to rescue Faye. They came to the Boatyard and split up to rescue the three children. Charles distracted Eben by chanting a spell that led the demons into his own body while Dawn rescued Faye, Jake and Melissa. Jake killed Eben saying that it was for his family. While Charles ran out of the Boatyard, he told Dawn to tell Diana that he loves her, and dived into the sea with demons inside of him.
At the Abandoned House, Cassie and Diana tried to escaped but failed to do so. Blackwell then reveals that he used the witch hunters to threaten the circle, because his plan all along is to destroy the witches who don't have Balcoin blood. The reason is he thinks non-Balcoin are too weak and the strong ones will lead witches to be above any creatures ever existed. Cassie realized that he used the past circle so they would do what he wanted; and also to try and create more Balcoin blood kids. Blackwell later chanted something to make the crystal skull dark, making only the witches with no Balcoin blood burn inside. Adam arrived and tried to take the crystal skull away, but Blackwell used his dark magic to push Adam away. Cassie tried to kill Diana to unleash her dark magic which resulted and both of them escaped. Cassie grabbed the skull and did the best she could to kill Blackwell, but he was so strong that her nose started to bleed, but with Diana's help they killed John Blackwell.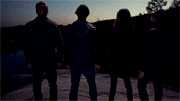 The circle decides not to bound once again because of what happens when they do. They consider that they are still together. They went back to their normal lives and decide to let Adam protect the crystal skull. Faye and Melissa went back to their own way of life by celebrating having their individual power back. Jake received a letter saying "The circle is coming together. Your fight is far from over, Grandpa Royce." and an unknown object. Adam obsessed with the skull's power. Diana and Grant finally left Chance Harbor. She realized that she has a Balcoin symbol on her palm. Cassie enjoys her dark magic power. Finally the Four Unknown Balcoin kids appear on the hill looking at Chance Harbor, meaning that they had arrived.
Cast
Main Cast

Recurring Cast

Guest Cast

Jared Keeso as Witch Hunter
Unknown Actor as Balcoin Sibling 1
Unknown Actress as Balcoin Sibling 2
Unknown Actor as Balcoin Sibling 3
Unknown Actor as Balcoin Sibling 4
Soundtrack
| Song Title | Album | Artist | Buy |
| --- | --- | --- | --- |
| Amongster | Give You the Ghost | Polica | Buy |
| Skin Graph | Neck of the Woods | Silversun Pickups | Buy |
| Vessel | Conatus | Zola Jesus | Buy |
| We Are Fine | Tramp | Sharon Van Etten | Buy |
Quotes
---
---
---
---
---
---
---
Gallery
| | |
| --- | --- |
| | This gallery only shows the official pictures released for the episode your're looking for. A more complete gallery can be found here. Any future additions should be done there. |
Videos
Notes and Trivia
The title of this episode was revealed in a tweet from Joe Lando on March 31, 2012.
Based on Jessica P. Kennedy's tweet this episode was shoot on Sunday, April 8, 2012
It was first discovered in the Extended Promo, that the Circle was unbound and their individual magic was restored.
In Joe Lando's tweet, he described the episode as:

Body Count: HIGH!
Secrets revealed: MANY!
Surprise ending: PRICELESS!

On April 13, 2012, Phoebe Tonkin tweeted that there would be a scene with Faye dancing in her underwear.
Cassie and Diana performed a "very cool" spell together.
Season One wrapped up filming on Friday, April 13, 2012.
Kate Meade returns to Chance Harbor.
Jane Blake and Nick Armstrong are the only main characters that didn't appeared in the Series finale, the reason is because they are both deceased.
The circle is trying to save Faye from the Eben in this episode.
Adam is trusted to dispose of the crystal skull, but it is presumed that he absorbs the dark magic from it.
Despite Joe Lando's tweet, Eben and John are the only people to die.
Charles and Dawn get their magic back through Kate.
Diana and Cassie have four other siblings with Balcoin blood.
Diana leaves town with Grant.
With Cassie assistance, Diana unleashes her dark magic.
The two main antagonists died in this episode:Eben and John Blackwell.
On May 11th 2012, the CW officially cancelled The Secret Circle. Making this the Season/Series finale of The Secret Circle.
There is not DVD for Season One much to the disappointment of the fans.
See Also