Jurassic World: Dominion Dominates Fandom Wikis - The Loop
Play Sound
The Secret Circle
Season 1, Episode 8

Episode Information

Air Date

November 3, 2011

Writer
Director
Episode Slogan

A ROAD TRIP FOR THE CIRCLE TAKES A HORRIBLE TURN

Episode Guide

previous
Masked
next
Balcoin
Beneath is the eighth episode in the first season of The Secret Circle. It aired on November 3, 2011.
Summary
After not hearing from her grandmother for a couple of days, Cassie becomes concerned and wants to go look for her. Diana decides the entire Circle should go in case Jane is in trouble. She also invites Jake along, much to Adam's dismay. A storm turns the day trip into an overnight excursion, so Faye suggests a little game of Truth or Dare to liven up the evening. However, things take a horrible turn when Faye is forced to reckon with someone from her past.
Plot
SPOILERS AHEAD
Cassie worries when Grandmother Jane hasn't yet returned from her weekend trip to Henry's lakehouse, so Cassie tells the rest of the Circle that she's going up there to see what's happened. She's also curious about the magic she did without the help of the Circle, and she wants to ask her grandmother about that. So the Circle decide that they should take a road trip to the lakehouse together.
Jake goes to speak with Isaac who reminds Jake why he's trying to get close to Cassie and not let any feelings blind him to his mission. Jake says not to worry; he only wants to get close to kill Cassie.Faye tells Dawn about the roadtrip, and Dawn calls Charles to inquire about where Jane actually is. They need to erase Jane's memory so she doesn't recall Dawn and Charles killing Henry. The spell they need to perform is in the Book of Shadows so they go to the Abandoned house to take Diana's book. Charles once again admits to guilt about killing Nick.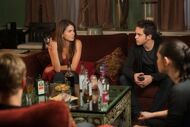 During the car ride to the lake, Jake and Cassie have more sexual tension, and once the Circle arrives at the house, they're puzzled to find a lack of Henry and Jane. The Circle's arrival at the lake is also doing weird things to Faye, who keeps hearing the voice of a little girl. She also spots small footprints in the mud near the lake, as well as child-sized rain boots.

Cassie and Jake light a fire and share the warmth together, but Adam is in the shadows, watching the love of his life slip away from him.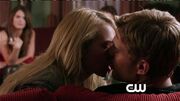 Meanwhile, Faye decides to take a bath, but panics when the tub is suddenly filled with seaweed. Faye accuses Cassie of tormenting her. After all, she was Jake's ex, but naturally Cassie denies it.
Faye suggests that the Circle play Truth or Dare, which results in Diana taking off her top, Faye admitting that she's only slept with two guys, and Jake and Cassie kissing. This sends Faye into a fury and she and Cassie fight. Faye leaves the house, intending to drive back home, but she encounters a little girl in red rainboots and a yellow rain slicker. Cassie discovers an old photo of Faye in the house, and she looks a lot like the little girl who is tormenting Faye now. Jake comes in, and they start to get steamy kissing heatedly, only to have Jake suddenly break it off. Adam tries once again to get back with Diana, at first they fight but ultimately end up spending the night together in a shed outside the house having sex.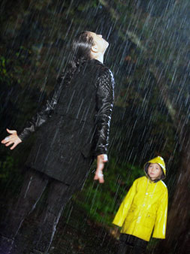 Cassie heads out of the house and spots the little girl, whom Faye
admits is actually her when she was little. Grandpa Henry saved her from drowning when she was very young. The rest of the Circle head for the lake, while Faye tries to figure out why her younger self has suddenly manifested. Cassie goes to the spot beneath the bridge where Henry's body is hidden beneath at, and puts her hands in the water making the water bubble summons up Henry's dead body from the water.
Dawn goes to the lakehouse in order to comfort Faye, and Diana breaks it off with Adam, saying that she needs to find herself. Cassie arrives home to find her grandmother with no memory of ever reaching Henry's house. Jake talks to Isaac, who says that it's time to finally kill off the Circle.
Cast
Main Cast

Recurring Cast

Guest Cast
Quotes
---
---
---
---
---
---
---
---
---
Soundtrack
| Song Title | Album | Artist | Buy |
| --- | --- | --- | --- |
| Long Way | | Papercranes | Buy |
| What it's Worth | To An Evergreen | Engineers | Buy |
| Wildfire (featuring Yukimi Nagano) | SBTRKT | SBTRKT | Buy |
Gallery
| | |
| --- | --- |
| | This gallery only shows the official pictures released for the episode your're looking for. A more complete gallery can be found here. Any future additions should be done there. |
Videos
Notes and Trivia
This is the first episode not to feature Melissa. The reason why Jessica Parker Kennedy was not in this episode is unknown.
The reference to Melissa's mother in the episode is actually somewhat of a misnomer. After her biological mother died in the accident sixteen years ago, her father re-married. She is the only circle member to have a step-parent.
This episode marks the first and only times Cassie and Jake kissed. First by a dare and then by their own free will.
It's the third time Phoebe Tonkin had surprises for her in a bathtub scene. One in this episode, two while she was on H2O, Just Add Water.
In this episode, we see Dawn and Charles enter the Circle's Abandoned House for the first time.
See Also